The making of Rhys Darby's book: "The Top Secret Undercover Notes of Buttons McGinty"
When Rhys Darby's manuscript landed on my desk, I was blown away by how unique it was. All of the illustrations and words were done by him! It looked like a child's diary entry. Because it was so different, I had to break all the rules of book design. Everything (from the font sizes, to the line spacings) had to be altered to allow the right amount of negative space. The scary thing was, I only had a week to turn the whole thing into a fully designed book!
Recreating the illustrations
All of Rhys's illustrations had to be digitally traced to make them into vector versions, and then converted into greyscale. There were 190 pages of illustrations!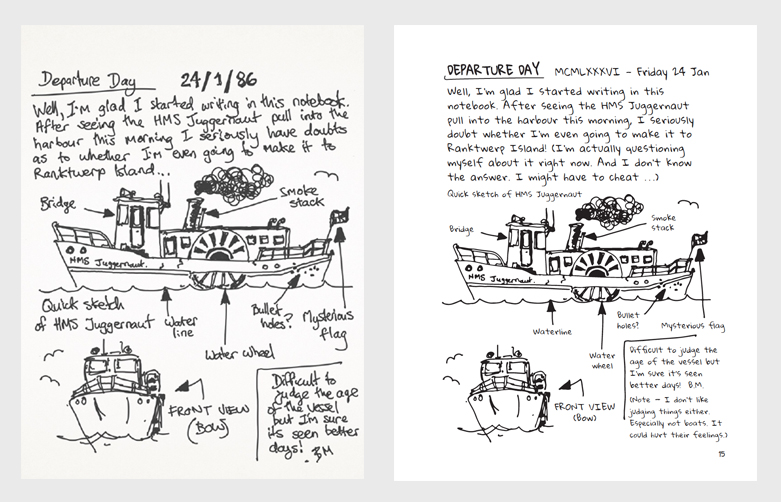 On the left is Rhys Darby's original illustration, on the right is the digital version.
The layout
Laying out the text and illustrations was challenging. I wanted to capture the look and feel of a diary, but I also had to make sure all the pages looked visually balanced. So there was a bit of tweaking to make the text and illustrations work together.
This was by far the hardest page to lay out. Look at how all the blocks of text are arranged differently on the page. A lot of twiddling around here: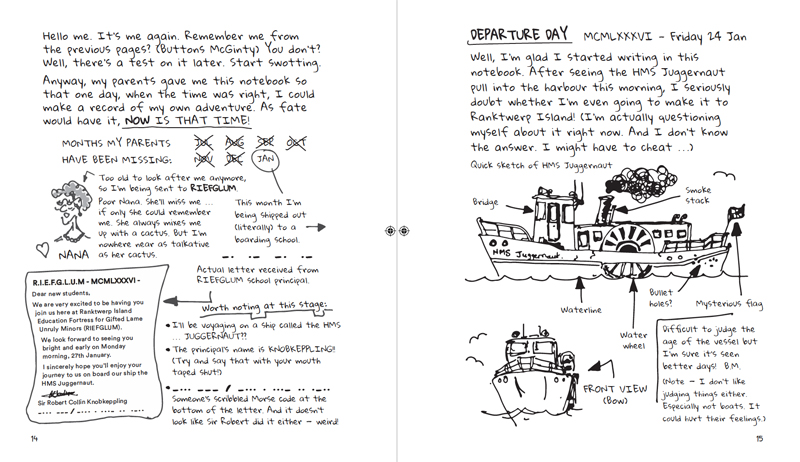 Choosing the font:
Rhys had originally hand-written the story on a tablet, so Scholastic had the fun job of typing it all up. They wanted to go with a font that matched Rhys's handwriting, so in the end they chose Gloria Hallelujah.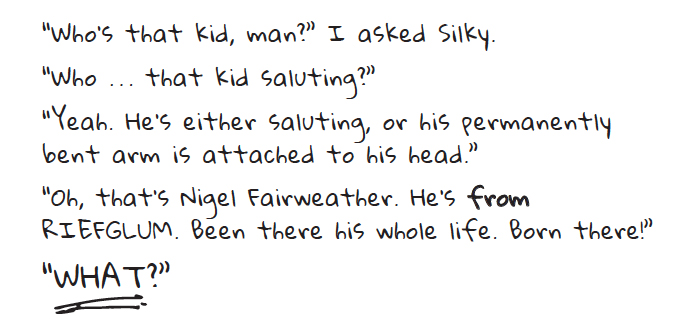 As you can see, getting the book out in time was a bit of a mission, but it was definitely worth it. I can't wait to work on Rhys's next book in the series.
Further information
This site gives just a quick overview of the self-publishing process. Please feel free to contact us if you are considering working with Smartwork. In the meantime, here are one or two very useful sources of information and contacts.
New Zealand Book Council (www.bookcouncil.org.nz): A superb resource for NZ readers and writers – with a blog, podcasts, and information on courses, funding, residencies, festivals, community events and the Writers in Schools programme.
New Zealand Society of Authors (www.authors.org.nz): The NZSA, like the Book Council, is an essential resource for readers and writers, with news of grants and fellowships, courses, etc. It will be able to provide much of the basic information self-published authors need. It provides three particularly useful and affordable guides (available as ebooks): Getting Published, Self-Publishing: A writer's guide, and Digital Publishing Guide (Martin Taylor).
The Bookseller (www.thebookseller.com): The Bookseller has for more than a century been the international go-to source for trade news.